Best Chair and Seating Rentals
Ricky's Party Rentals Has The Most Elegant Chair Rentals!
No matter what type of event you are planning, Ricky's Party Rentals has the chair rental you need to keep your guests comfortable. We routinely deliver to backyard parties, corporate events, weddings, graduations or as well as other events and parties of all sizes looking to rent chairs.
We only rent items made of commercial grade materials that are also flame, mold, mildew, and stain resistant. It doesn't matter if it is chairs, we strive to only offer the best.
Here at Ricky's Party Rentals, our goal is to have a stress free rental experience. With that being said, the last thing you need to worry about is the cleanliness of all of our rentals. We take cleanliness and your guests' health seriously. We clean and disinfect all of our rental items between each rental so you can focus on enjoying your event and the company of the guests who attend.
We are fully insured and can accommodate additional insurance requests if needed.
Ready to book? Our online reservation system allows you to easily add items to your cart, specify event times/dates, and even has a text box where you can leave us specialized notes about your event. If you prefer to speak with one of our event specialists, please give us a call at
(909) 939-7131
we're happy to help answer any questions about your event and help you plan your special occasion!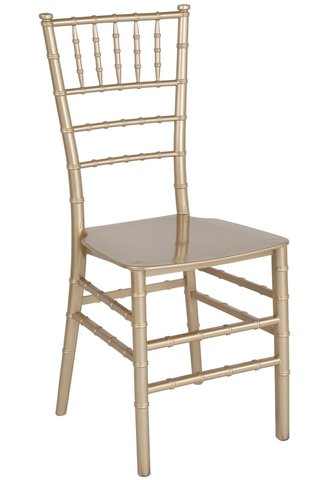 Featured Chiar Rental
Gold Chiavari Chair With Cushion
Chiavari chairs with cushions are a simple elegance that cannot be duplicated by any other rental chair. Chiavari Chairs are the perfect chair for any occasion, whether indoors or outdoors, everyone loves how chic it looks. These hardwood ballroom chairs are the perfect choice when renting chairs for a wedding, anniversary or graduation party. We currently offer white, black, gold, fruitwood and clear.
BOOK NOW!
Renting Chiavari Chairs for Weddings and Special Events

Chiavari chairs have become the most sought-after seating option for weddings and banquets. And why not? They add beauty and elegance to any event and work well both as seating at tables and as free-standing chairs for ceremony seating. Finding the right rental chair for the right price is important. We provide rental chairs in every shape and size. We carry chairs for Weddings, Black Tie events, Bar Mitzvah, Festivals, Parties, and Graduation Ceremonies. Not only can the right chair greatly enhance the appearance of your event, they can also greatly increase the comfort of the event for you and your guests. No event is too large or too small and our large inventory of rental chairs is uniquely tailored to local preferences.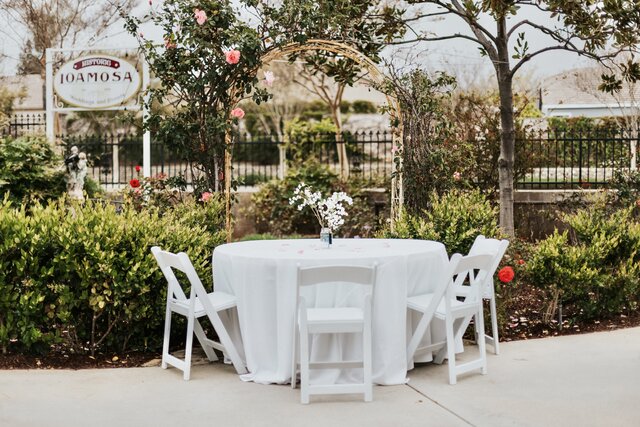 White Resin Folding Chair
If you're looking for a quality alternative to traditional plastic folding chairs for your next event, then our White Resin Folding Chairs are the answer. This White Resin Folding Chair combines comfort and elegance that looks good at all your special events, whether it's a backyard barbeque, a formal banquet or beach wedding. This chair is made from ultra-strong resin that's very lightweight. They are also a perfect addition for any party event such as outdoor event, weddings, graduations or any event that requires elegant, comfortable seating.
BOOK NOW!
Do You Deliver Chair Rentals Near Me?
Ricky's Party Rentals is located in Fontana, CA. It is the place for wedding rentals, tables and chair rentals and so much more. Established in 2015, we strive to be the industry leader in the area and work for Los Angeles and surrounding areas. These areas are the Inland Empire, Coachella Valley, Orange County, and Temecula Valley to name a few. If you have an upcoming wedding or event that needs an amazing
Seating
,
Tables
,
Tents
,
Linen
,
Tableware
,
Lighting
,
Flooring
,
Pipe and Drape
, and much more, we have you covered! We have rustic-style table rentals and gorgeous rentals that will make your reception look and feel amazing. However, if you need just a simple table and chair rentals for a graduation party, we have you covered for that as well.
Graduation party rentals, corporate event rentals, birthday party rentals and so much more. We are your one-stop shop that can be used for family gatherings and baby showers as well. Everything you see online is available for you to rent. You can decorate it up as much as you'd like, or keep it simple. We offer a massive selection of party rentals for you to choose from. Everything we offer is delivered right to you for your convenience.
Our Service Area
Ricky's Party Rentals Is Proud To Serve the Following Areas:
People That Rented Seating And Chairs Also Shopped For:
Table Rentals
Tables are the perfect addition to any indoor or outdoor event. It's a great way to give your guests a place to sit and eat or just relax and get off their feet for a bit. It also allows your guests to mingle with one another. Table rentals are perfect for any kind of event such as a wedding, graduation party, conference or fundraiser with hundreds of guests.
Catering Equipment Rentals
When it comes to catering an event, presentation is everything. Whatever's on the menu, we have everything you need to present and serve every bite. We offer a wide array of catering equipment rentals including classic Chafing Dish, Pitcher, Waiter Stand, Coffee maker and more.
Tableware Rentals
We carry the finest dinnerware for weddings, showers, dinner parties and other events. We offer the most timeless plates, glassware, flatware and other dinnerware that come together in the most beautiful combinations. Our unique collection is perfect for creating your ideal look – from classic and romantic, rustic and casual, or modern and edgy.
Frequently Asked Questions About Chair Rentals