Event Furniture Rental In Corona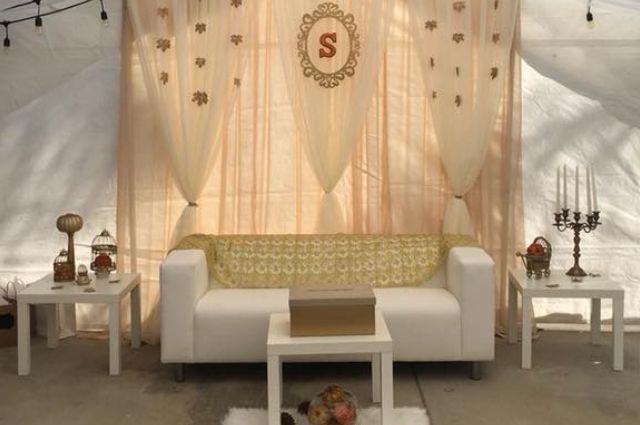 White Sofa Event Furniture Rental For All Types Of Events In Corona
Are you hosting an event in Corona and need elegant furniture? Ricky's Party Rentals has your event furniture rental that will deliver a chic vibe to your party. Our sofas and armchairs are the perfect event furniture rental for all kinds of events, including weddings, birthday parties, or corporate events. Your guests will be quite impressed with the effort you took to make your party feel super luxurious all while creating a welcoming comfort for your guests to relax and enjoy.

Ricky's Party Rentals offers a variety of event furniture rental so you can mix and match to make your event as unique as you are, with sofa and armchair furniture rentals of different sizes and colors. Our event furniture rentals include a selection of sofas and armchairs to give your event a classy yet distinguished look. It's your party so you decided however you'd like to decorate your event is up to you!
Book Online Now
Vast Selection Os Event Furniture Rentals To Create The Perfect Atmosphere
Parties do not have to just be a tent with some chairs underneath. If you are looking to create a truly unique event in Corona with space for people to relax and hang out, adding an event furniture rental, like our sofas and armchairs, will give your guests the perfect place to do just that. Add in some side tables or cocktail table rentals too so your guests will have a place to put their drinks and food while they are socializing.
Ricky's Party Rentals offers a broad selection of furniture rentals that are perfect for events of any size, large or small. Whether your event is indoors or outdoors, we've got your furniture rental needs covered. Mix and match any of our colors to create your very own unique event. Our event furniture rentals are the highest-quality and will ensure your party runs seamlessly.
Don't see exactly what you're looking for or need assistance? Give us a
(909) 939-7131
today to speak with one of our event specialists. We are constantly addind items to our inventory as we work with our customers to create their perfect event in Corona. We also have a large group that we work with to plan events and frequently work together to provide items to take care of everything for your event from balloons to flowers and more.
We are fully insured and can accommodate additional insurance requests if needed. Ready to book your event furniture rental? Our online reservation system allows you to easily add items to your cart, specify event times/dates, and even has a text box where you can leave us specialized notes about your event. If you prefer to speak with one of our event specialists, please give us a call at
(909) 939-7131
we're happy to help answer any questions about your event and help you plan your special occasion!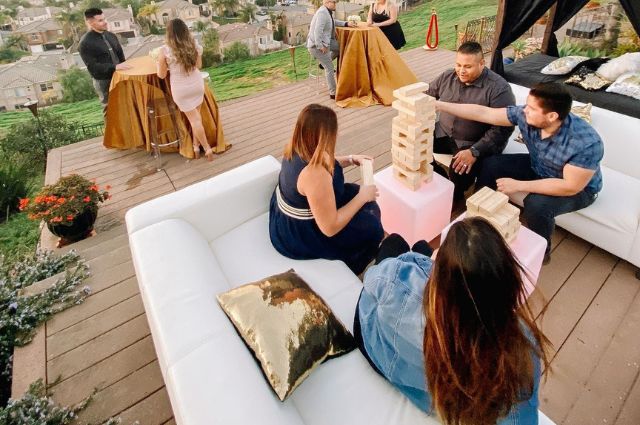 Weddings, Birthday Parties, Corporate Events, And More!
When it comes to planning your next party, event furniture rentals play an essential role in creating the perfect atmosphere. By carefully selecting your event furniture rental with Ricky's Party Rentals, you are choosing to create an ambience that is both cozy and stylish. Our event furniture rental selections are high-quality and comfortable with options to match the aesthetic of the occasions. Ricky's Party Rentals is here to help you create unforgettable memories for your event in Corona without breaking the bank!

Don't forget to browse our website to selection addiitonal party rentals items, including dining table and chair rentals, catering equipment, bar and barback rentals, and more!
The Perfect Wedding Rentals In Corona
When planning for a wedding, you want to create an ambiance that is the definition of love. If you have made your guest list and planned your food and drink menu, it's time to start planning your wedding decor. Wedding rentals can transform any setting into the perfect space for your special day. By renting your wedding furniture rather than buying, you will save time and money, and you will have more options with your available selection. You can mix and match colors to create designated seating areas or choose matching sofas and armchairs rentals.

Using wedding rentals from Ricky's Party Rentals will allow you to create your dream wedding space. You can choose from a variety of different styles, colors, and sizes so that everything ties together perfectly in your venue. Additionally, professional delivery services in Corona ensure that all pieces arrive on time and are placed in their designated spots with no hassle for you or the bridal party. The bride will be thrilled to see her guests visit and mingle in comfort!
Do You Deliver Event Furniture Rentals Near Me In Corona?
The answer is
Yes!
Ricky's Party Rentals is the #1 supplier in CA for all your event rental needs. Ricky's Party Rentals is located in Fontana, CA. It is the place for all your wedding rentals, tables and chair rentals and so much more. Established in 2015, we strive to be the industry leader in the area and work for Los Angeles and surrounding areas. These areas are the Inland Empire, Coachella Valley, Orange County, and Temecula Valley to name a few. If you have an upcoming wedding or event that needs an amazing
Seating
,
Tables
,
Tents
,
Linen
,
Tableware
,
Lighting
,
Flooring
,
Pipe and Drape
, and much more, we have you covered! We have rustic-style table rentals and gorgeous
lounge and furniture rentals
that will make your reception look and feel amazing. However, if you need just a simple table and chair rentals for a graduation party, we have you covered for that as well. Graduation party rentals, corporate event rentals, birthday party rentals and so much more. We are your one-stop shop that can be used for family gatherings and baby showers as well. Everything you see online is available for you to rent. You can decorate it up as much as you'd like, or keep it simple. We offer a massive selection of party rentals for you to choose from. Everything we offer is delivered right to you for your convenience.
Our Service Area
Proud to Serve The Following Areas:
Yucaipa
All Areas In Between
If your party or event is beyond that radius, just let us know! We may be able to make special accommodations to suit your event.
NOTE: Fees may vary depending on how far you are outside our service area.
People Who Reserve Event Furniture Rentals in Corona Also View: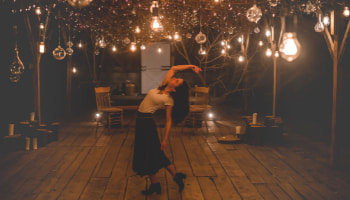 Lighting Equipment Rentals
Dance and party the night away with lighting rentals from Ricky's Party Rentals. We have a large selection of lighting to choose from. Our lighting equipment rentals will light any area indoors or outdoors to give your guests the light they need to see and dance through the night at your next party or event. Our lighting rentals are perfect for tents and more.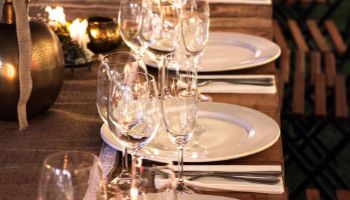 Tableware Rentals
We carry the finest dinnerware for weddings, showers, dinner parties and other events. We timeless plates, glassware, flatware and other dinnerware that come together in the most beautiful combinations. Our unique collection is perfect for creating your ideal look – from classic and romantic, rustic and casual, or modern and edgy.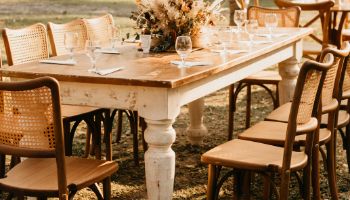 Table & Seating Rentals
Are you looking for a nice and elegant table for your next event in Corona? Ricky's Party Rentals offer the largest inventory in the industry. We carry every size, shape or configuration you can imagine - from round, straight, short, tall, serpentine, specialty table, and more. Just browse our selection, reserve your rental, and we will take care of the rest.
Frequently Asked Questions Abount Event Furniture Rentals